FRANCE - International Business Development Internship
1st September 2020 – 29th January 2021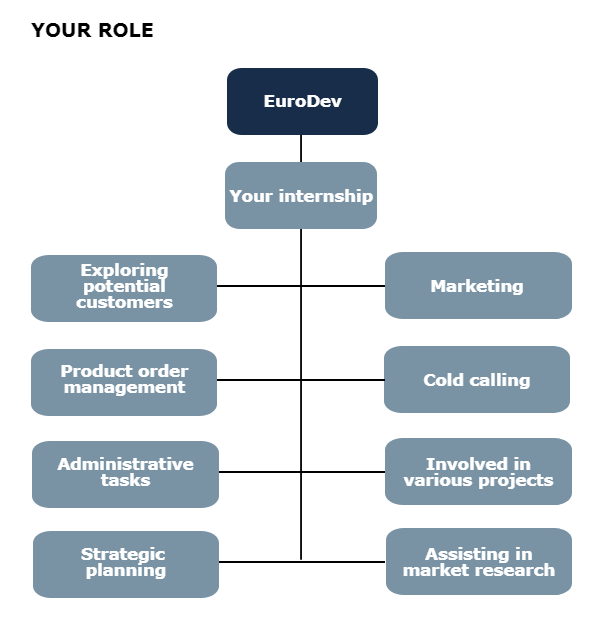 SKILLS AND COMPETENCIES
Good command of the English and German language
Time management skills
Pro-active and energetic
Intercultural sensitivity
Flexibility
Ability to work under high pressure
ABOUT US
EuroDev is the business development partner for North American companies that want to expand their business in Europe. Since 1996, we have assisted over 350 clients with our cost-effective expansion solutions. The services we offer are Sales Outsourcing, Mergers & Acquisitions, and HR Outsourcing. We have two offices, based in the Netherlands and France and a total of 70 international, dedicated employees.
OUR OFFER
We provide you with an inspiring environment to perform, learn and grow both personally and professionally. We stimulate you to come up with new ideas and initiatives to make a valuable contribution to our organizational success. You'll be working within a young, dynamic and international team that likes to do activities together outside of work too. The monthly reimbursement for this internship is €550.
EXAMPLES OF COMPANIES WE CURRENTLY REPRESENT
Interested? Please apply at the bottom of this page.
For questions please contact Darcie Hudson, HR Manager at: darcie.hudson@eurodev.com +33(0)4.92.91.07.91.
473, Route des Dolines, 06560 Valbonne, France – Phone: +33(0)4.92.91.07.91 www.eurodev.com