How to Qualify Distributors
Last updated: 1 June 2023
Many North American companies have a long-term strategy of expanding their businesses into Europe. Understanding the dynamics of this step requires a well-curved game plan or an experienced consulting partner. One of the most challenging steps for the European expansion, is to find find the right distributors for your products. For the purpose of this blog, we will discuss a proven approach to find the right distribution partner for your goods in different European countries.
Covering this subject is James Dahoe, a Business Development Manager at EuroDev, based in The Netherlands. For the past 3 years, James has handled the distributor networks for multiple North American industrial manufacturing corporations.
Finetune your proposition
James starts off the discussion by pondering on the power of carrying out market research before searching for any intermediaries. "A solid research will dictate your focus. It will outline the competitive rivalries, the buyer's behaviors, regional policies, and other external factors. Carrying out detailed market research in Europe will provide insights into the dynamics and demographics of this diverse market, hence providing numerous growth and innovation opportunities for the business landscape."
The distributor profiles
A common misunderstanding American companies have, is that product success in USA signifies immediate success in European countries, which is not always the case. However, having a better understanding of potential distribution partners is key to fighting this misconception when doing business in Europe.
According to James, it is the details that make significant differences between the companies that fail and those that succeed. "After carrying out a market study, providing a predetermined criterion of the distributor is important. Detail out the distributor's background, age, locations, interests and preferences, companies they work with, their journey map, and other details. James adds: "The ability of a distributor to take on stock is considered as an important factor while mapping out the distributor's profile".
Finding & Screening distributors
A potential distributor network is available at your desk, as James describes: "various well known online platforms can be used to put together a long list of potential candidates. LinkedIn, trade organizations or participants of trade shows in your industry can be good sources. Less used platforms like Apollo, LinkedIn Sales Navigator and Hunter are also very suitable to generate leads." Conventional methods also work according to James; "In the market research we look at the competition as well, which can be a great source to find your distributors." He says with a wink and adds further: "If you already have some products in the market, you can ask your end-users on their view of the supply chain."
A personal approach is essential when working with European distributors, James explains; "especially in the southern European countries but also in the North, a personal human connection remains a crucial basis for a durable relationship."
An example of qualifying criteria can be found below: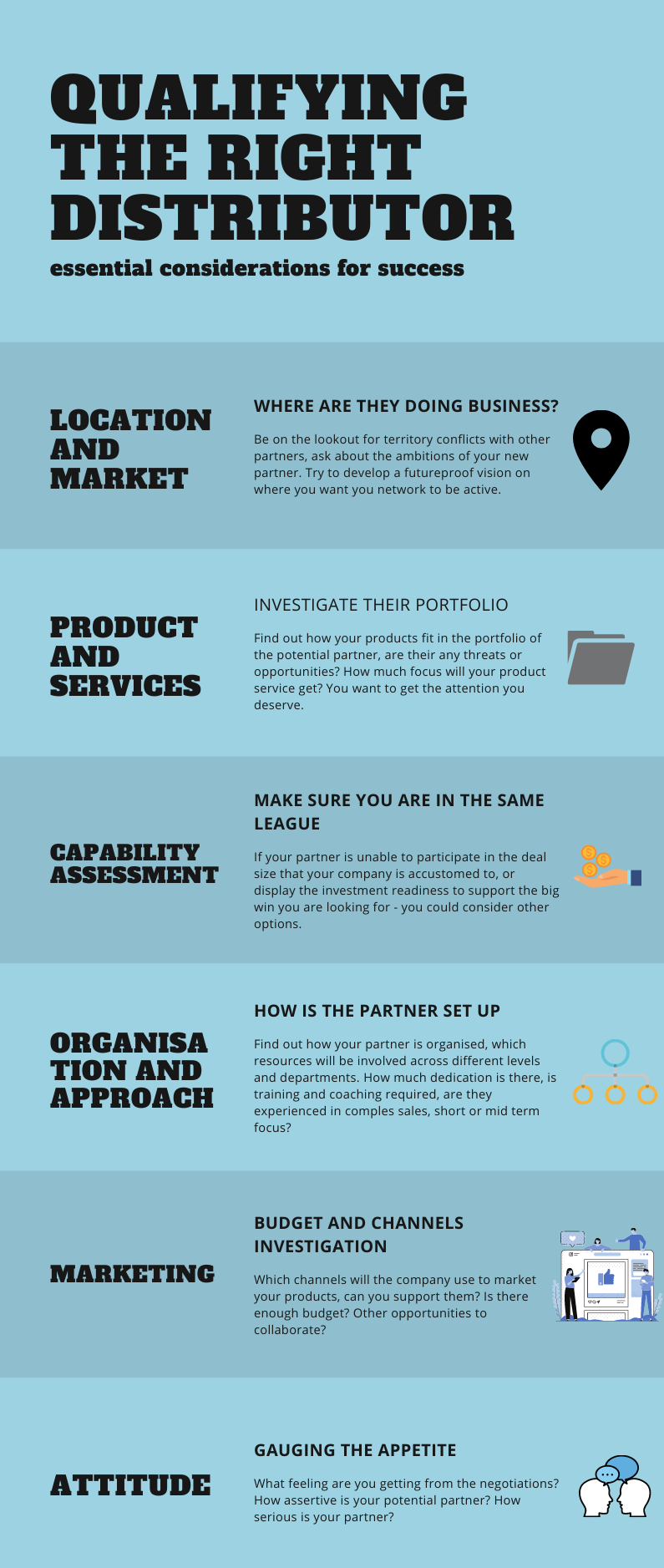 Since every company-product-market is unique it is strongly advised to define your own list and define weighing factors depending on the resources you intend to make available for Europe.
Contracting dealers
James advises to make sure to discuss and document the expectations beforehand. Agreements about onboarding stock, marketing activities, technical support and time investment should be clear on both ends.
In the distributor agreement, make sure to align with local courts of settlement in case of dispute, since references to US law can scare off your potential partner, with the risk of postponing or even declining to work with you.
Be cautious with giving your new partners exclusivity without knowing what to expect in terms of revenue and/or market share. An option could be to extend their exclusivity for a period and assess after a while. Another point of attention when onboarding new partners, is making sure that there is an opt-out in the contract, in case they are not fulfilling the agreements.
During this process, the general advice is to be critical towards your audience, but also to yourself. Finding the right partner in Europe is complex and time-consuming.
Do you want to learn more about this subject? Click on this link: 5 steps for finding distributors in Europe
About EuroDev
EuroDev, established in 1996 with offices in The Netherlands and France, has a single, defined purpose to help mid-sized North American companies expand their business in Europe. We have created a proven, successful business development model and since our founding, have partnered with over 300 companies to help them define and meet their European business goals. Services provided include Sales Outsourcing, HR Outsourcing and Digital Marketing.
Category