European Warehousing: Overcoming Logistic Challenges
Last updated: 28 September 2023
As a North American company that is looking to increase its sales, you most likely have thought about expanding to Europe. Not only does Europe offers plenty of new opportunities for innovative manufacturers, but it will also give you the benefit of operating in a single European market with a large customer base. Once you have set up your business in an EU market, you will have easy access to the other 27 member states. Some of which are among the wealthiest countries in the world.
In order to get there, you need to consider your logistic challenges and how you will meet your customers' demands. This blog will go deeper into how to overcome these challenges by setting up European warehousing.
European Warehousing Starts With Market Knowledge
There are several factors that need to be taken into consideration before opening a European warehouse. Step 1 is realizing the importance of understanding your European customer base. In order to pick the right place for your product, you need to know where your ideal customer is located. This will result in shorter lead times, lower shipment costs and far better responsiveness. And ultimately, happy customers.
Extensive European market research is a great tool to unveil your target markets and customers, but there are more factors that need to be considered in order to be successful.
Infrastructure by Air, Sea, Train and Roads
Europe is home to an extensive network of roads, seaports, railways and airports. Not all European countries have the same capabilities and/or resources. It is very important to understand that there is a significant difference within the EU.
If your customers are widespread throughout Europe, it would be very beneficial for your business to select a well-connected country as the basis for your local European warehousing.
The ports of Rotterdam (Netherlands), Antwerp (Belgium) and Hamburg (Germany) are well-known for their international sea-shipping options.
The airports of Frankfurt (Germany), Paris CDG (France) and Amsterdam (Netherlands) process the largest airfreight volumes in Europe.
RailNetEurope is an organization that focuses on creating and maintaining a well-connected railway network throughout Europe, together with railway industry players.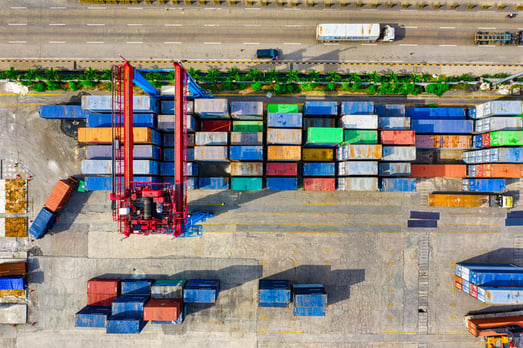 If you ship your product from North America to Europe for local storage, you want this to be as smooth and cost-efficient as possible.
Services & Storage Requirements
All products have different requirements when it comes to storage in a European warehouse. Do you sell products that are hazardous, flammable, or fragile? To comply with the current standards, automation helps with accurate stock overviews, order-picking, fast responsiveness and reliability of your storage space.
To pick the right partner, take a look at their capabilities and critically assess if they meet your current requirements, but also for the foreseeable future. Advanced technology has led to better service provisions. Ask about the warehouse management system and confirm whether the company's systems can be integrated with shipping companies and services that are essential to your business.
Longevity of the European Warehousing Location
Consider the longevity of your warehouse location. Is it able to facilitate the growing or perhaps shrinking of your business? Flexibility is often an important aspect for our clients. They do not want to be tied down. Your European warehouse has to be an asset in the pursuit of growing your sales, it should not hold you back.
The language skills of employees working at the warehouse are also crucial for success. You want to be able to prevent any miscommunications and ensure a durable relationship. The level of English speakers differs per European country. Analyze the potential growth of your business and find the right fit.
Conclusion
There are several steps you need to take before opening your Europe warehouse. However, when you have found your ideal spot to serve your European customers, it can be a great asset to your company.
Eliminating long lead times, cutting costs and staying close to your customers will make you more competitive. It is not just about having a place to store your products. How you do it and where you do it is just as important.
Interested in more EuroDev's Sales Outsourcing solutions? To learn more on a real-life example, visit The Benefits of Local Warehousing for Henry Molded Products.
Category