Selling construction equipment overseas
Europe offers a broad and diverse construction market with a wide arrange of demands, resulting in a competitive playing field for companies in the construction equipment & building materials industries.
An important factor driving the growth throughout Europe are consumer preferences shifting toward a strong building structure for withstanding extreme weather conditions. In the industrial and commercial market there is a growing demand for sustainable and energy-neutral products. The general and country-specific demands ensure an abundance of opportunities for North American businesses.
Overcoming the US-EU barriers
Meeting technical and legal regulations are the number 1 barrier to cross when you start exporting to Europe. Followed by languages and time zones. The UK used to be the preferred place to start. Nowadays Germany, France, Spain and Italy are strong options as well. This is where a dedicated partner like EuroDev can make a big difference.

EuroDev's mission is to be the European business development partner for midsized North American companies in the HVAC sector and other industries.
Barriers in the construction industry in Europe
Due to the 44 different countries, some of the greatest barriers when expanding your business in Europe are meeting technical and legal requirements, as well as overcoming cultural and linguistic challenges. For example, the EU market requires CE marking on construction products. Several rules are harmonised all over Europe through the Construction Products Regulation (CPR). At the same time, legal requirements may differ per country. Who has time to dive into all these requirements?
This is where EuroDev can make a difference: with a widely multicultural team of 25+ nationalities, and first-hand experience on the market, EuroDev is qualified to become a dedicated business expansion partner. With our Sales Outsourcing, Digital Marketing and HR services, we break these barriers and help get over the hurdles you will face when expanding your business to Europe. Tell us more about your ambitions and we'll find out how we can help make them happen.
5 reasons our clients love working with EuroDev
Market research, lead generation, digital marketing and more under one roof
We also help with finding 3PLs, local warehousing and CE certification
Not just a call center, but an equal business expansion partner
Local brand presence with multilingual support (20+ languages!)
Specialized in the North America to Europe market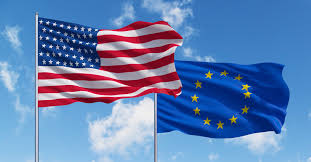 We are proud to work with


This test will provide an overview of your potential fit in Europe. We will be in contact with the results shortly after completion.
Blog: Railway construction
The European Green Deal creates a bigger focus on innovation and sustainability. Check out the 6 most important railway construction trends.