3 Trends CEOs are Following Into 2023
Last updated: 1 June 2023
A wave of layoffs is sweeping the US creating fears of a looming recession, higher interest rates, energy shocks, tighter investment budgets, and sparser funding. Taken together, these factors signal that 2022 represents the beginning of a different economic climate for many CEOs. To better understand the key takeaways of recent changes in the business world it's necessary to keep track of the trends that will follow us into the new year...
According to the latest IoT Analytics report, 35% of CEOs talked about recession in their earnings calls in Q3/2022, – with layoffs, hiring (freezes), and downsizing as the primary topics for most. Industry 4.0 and other tech-related topics (such as process automation) grew strongly, although on a smaller level. Topics such as the economic slowdown and automation rose in importance in Q3, while several other topics that had gained significant attention in previous quarters faded.
1) Economic slowdown
The number of CEOs talking about the economic slowdown has risen by 74% from the previous quarter. The analysis shows that, like "recession," many of the upcoming themes in those earnings calls were related to a weakened economy. With high inflation rates not seen in decades, the topic of inflation was discussed in 71% of all earnings calls in Q3/2022 (up 4% since the previous quarter but overall up 646% in the past two years). The gloomy forecast for economic growth led to many boardroom meetings discussing layoffs.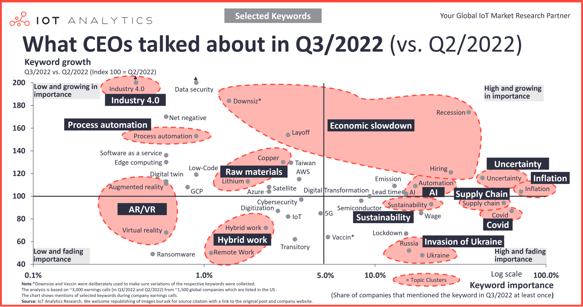 Most notably in recent times, an estimated 3,700 Twitter employees, or about 50% of the company's workforce, woke up to emails saying that they had been laid off on Nov. 4, shortly after new owner Elon Musk took over the social platform. Musk tweeted after the mass layoffs that he had "no choice when the company is losing over $4M/day." This is a trend that is also affecting Facebook since social platforms were expecting that the COVID-19 ad spending will continue even after the pandemic.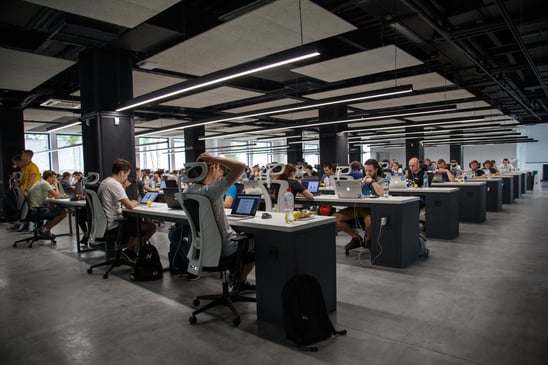 "We are seeing advertisers worried about a possible recession and so we're seeing them reduce their spend in places that are easy for them to turn off and turn back on.", the Chief Executive Officer at Roku Anthony Wood announced in July 2022.
2) Raw materials
Several CEOs talked about copper (+30% compared with Q2/2022), and 2% talked about lithium. These two raw materials are part of a long list of other raw materials, such as lumber, nickel, and cobalt, all of which experienced increased price volatility in the past three years. In particular, Dominik von Achten, CEO of Heidelberg Materials, discussed the company's third-quarter earnings, its transition to a more sustainable product portfolio, and how increased raw material costs are impacting the business.
The price of lithium, which is important for connected devices and electric vehicles, had increased by 190% in the last year which urged GM to introduce a new supply chain initiative, while Tesla's CEO, Elon Musk, asked entrepreneurs to enter the lithium refining business, calling it "a license to print money".
Yuki Kusumi, who became CEO of Panasonic last year, released his first midterm business strategy that included a commitment to invest in auto battery production, supply chain software services, and air purifier and air conditioner business.
3) Sustainability
21% of all CEOs discussed sustainability while 14% discussed climate and 13% discussed emissions. Though there is a decrease when compared to the previous quarter, in the long run, since Q1 2019, this indicates a highly positive trend. Sustainability, climate, and emissions have gained extensive boardroom importance. Most CEOs are convinced that sustainability will be beneficial for their enterprises.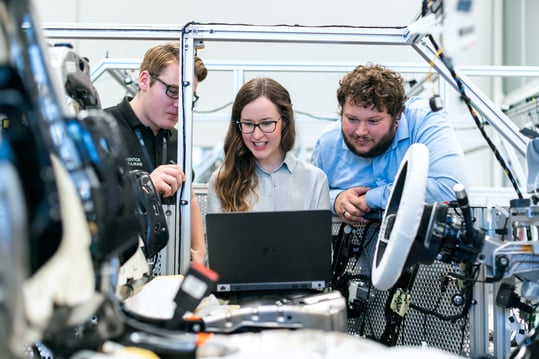 Industry 4.0
Industry 4.0 applies to the manufacturing industry and was discussed by 0.4% of CEOs in Q3/2022, an increase of 113% since last year. 72% of manufacturers have partially or fully implemented a smart factory strategy to date.
IoT Analytics noted that even with the challenges from last years such as the pandemic, the looming recession, inflation, and global supply chain issues, and energy crises manufacturers are still determined to speed up their digital transformation projects. Some companies have already invested in Industry 4.0 projects a few years ago, and now they're seeing the results.
Manufacturers in industries such as automotive and electronics, nearing the tipping point of digital adoption, are achieving even faster and more sustainable change through Industry 4.0.
When in it comes to the complete picture of trends in the economy, with the fear of a growing recession ever present, it is important to mention the positive steps that the European Union has taken to insure that countries of the region receive enough funding to eliminate any economic hiccups and ensure consumer spending and government incentives along the testing year to come.
Interested to learn more about your company's potential to expand into the European market? Feel free to schedule a meeting with us and we will be more than happy to guide you through your European expansion. 
Sources: IoT Analytics, Wired
Category