Recruitment Process Outsourcing: Optimizing Talent Acquisition
Last updated: 21 September 2023
Welcoming new employees is a joy for every employer. Reaching this stage, however, does not happen overnight. Fulfilling a job opening comes with a lot of challenges and questions, especially when one has to recruit in another country. You may wonder where and how you can find the most talented candidates and how you will find time to do it.
Fortunately, there is a way to provide quick answers and actions, and it's called Recruitment Process Outsourcing. What it stands for, and what is the difference between an independent contractor and an employee? In this blog, we will explain.
What is the Recruitment Process Outsourcing?
When a company transfers all or part of its recruitment responsibilities to an external provider, whether finding the right candidates, interviewing them, onboarding, or any other recruitment-related tasks, that business strategy is called Recruitment Process Outsourcing (RPO).
It is a form of business process outsourcing, a tailor-made solution for companies seeking to optimize their hiring process and reduce time-to-fill positions.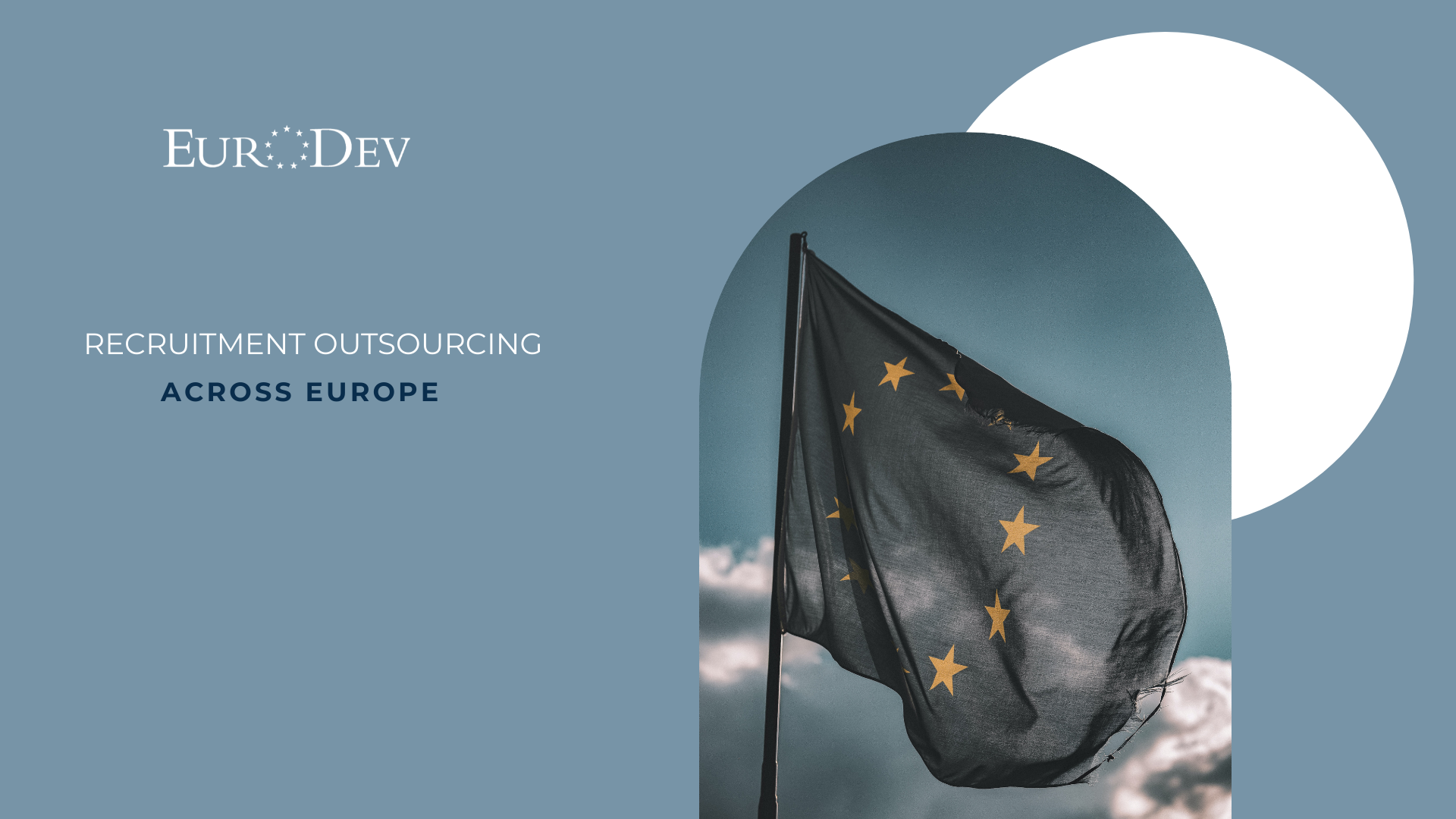 Recruitment Process Outsourcing Benefits
Prior to implementing RPO services, businesses should plan strategically and consider various factors, including industry insights and the quality of a recruitment outsourcing provider. But, once implemented, recruitment outsourcing comes with numerous benefits:
Cost-effective
This might be the most obvious reason to outsource your recruitment process. But how can Recruitment Process Outsourcing (RPO) realize a cost reduction?
A recruitment process is costly as it involves a lot of time and labor costs, especially when one has to recruit in a foreign country. Furthermore, there are costs related to advertising, screening, and recruiting technologies. These costs can all be (partly) transferred to a Recruitment Process Outsourcing provider. As a result, the cost-per-hire, a key HR metric, can be reduced along with the time-to-hire.
Focus on core business
If done right, outsourcing saves time. When the recruitment process is outsourced to an RPO provider, it doesn't take anything away from core business activities and enables employers to find the talent they need without distractions from business operations.
Even when you, as an employer, have a dedicated HR professional, it might make sense to outsource your recruitment assignment to an RPO provider that has experience in the industry or country of the specific recruitment. That way, your HR professional can focus on the domestic HR needs and responsibilities.
Access to an exclusive and qualitative talent pool
Finding qualified and suitable candidates in a foreign country is a significant concern for employers operating in a global job market. By choosing the right Recruitment Process Outsourcing provider, your company will have access to the relevant talent pool, as established RPO providers have an extensive network.
Furthermore, it might result in a competitive advantage as an RPO can more quickly and efficiently find top candidates with its extensive knowledge of the talent pools in each country.
For example, if you are looking for a highly skilled engineer, technician, or innovator, Germany and the Netherlands would be the place to look. In comparison, Sweden is known for its abundance of skilled workers within the financial sector.
Experience with the national recruitment process
Hiring processes vary per country. Therefore, outsourcing your recruitment process to an outsourcing provider familiar with the national habits and culture is more efficient and effective. An RPO provider would be able to talk to your new potential colleague in their native language.
Scalable, flexible and low-risk
The recruitment or hiring needs of most companies vary throughout the year. RPO providers can scale up or down recruitment activities when you request them.
Furthermore, an RPO works closely together with you as an employer through reporting tools and weekly updates. In the end, you, as an employer, will make the final decision on your new colleague.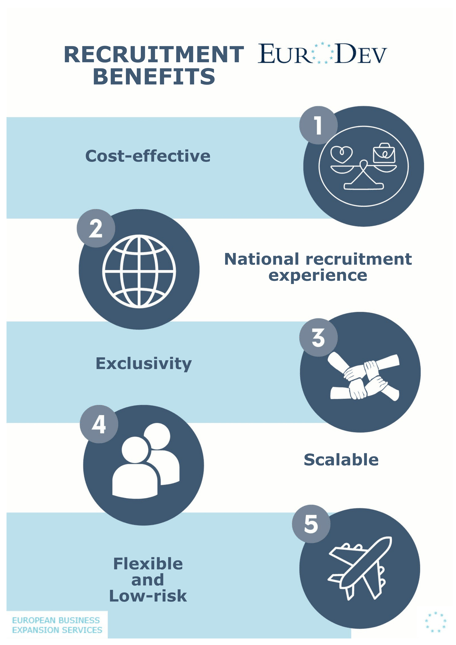 Recruitment Outsourcing Key Learnings
A recruitment process outsourcing (RPO) provider can act as an extension of a company's HR department, assisting them to focus on their core business while bringing forth tailored solutions and expertise when it comes to recruitment outsourcing. However, to have a successful partnership and collaboration with an RPO provider, there is a need for effective communication and clear expectations.
Feel free to get in contact with one of our HR experts to learn more about what a recruitment process outsourcing looks like in Europe or what it means for your organization. Furthermore, explore all EuroDev HR Outsourcing services.
Category