EU Food and Beverage Trends: Staying Ahead in a Dynamic Industry
Last updated: 26 September 2023
After almost 2 years of lockdowns and travel restrictions due to Covid-19, professionals from the food and beverage industry were finally able to meet again at the world's largest F&B industry expo. Two of EuroDev's retail specialists were happy to visit the Anuga global trade fair at the Koelnmesse in Cologne, Germany, to get a taste of what will happen in the industry in the upcoming years.
In this blog, we bring you the 5 most important food and beverage trends, as seen at Anuga 2021.
The Food and Beverage Industry During & Post-Covid
While a lot of industries suffered from a worldwide decline in demand since the outbreak of Covid in early 2020, revenue in the food & beverage industry skyrocketed. Worldwide revenue is expected to reach 342 billion USD in 2021, an increase of 97%(!) compared to 2019's 174 billion USD, almost doubling the revenue in just 2 years.
These numbers show many opportunities for brands and manufacturers in the food and beverage industry to profit from international business expansion. For North American companies, Europe is seen as the most logical region to expand into. Their revenue forecast, countries' GDP, and food trends are all similar to the USA and Canada.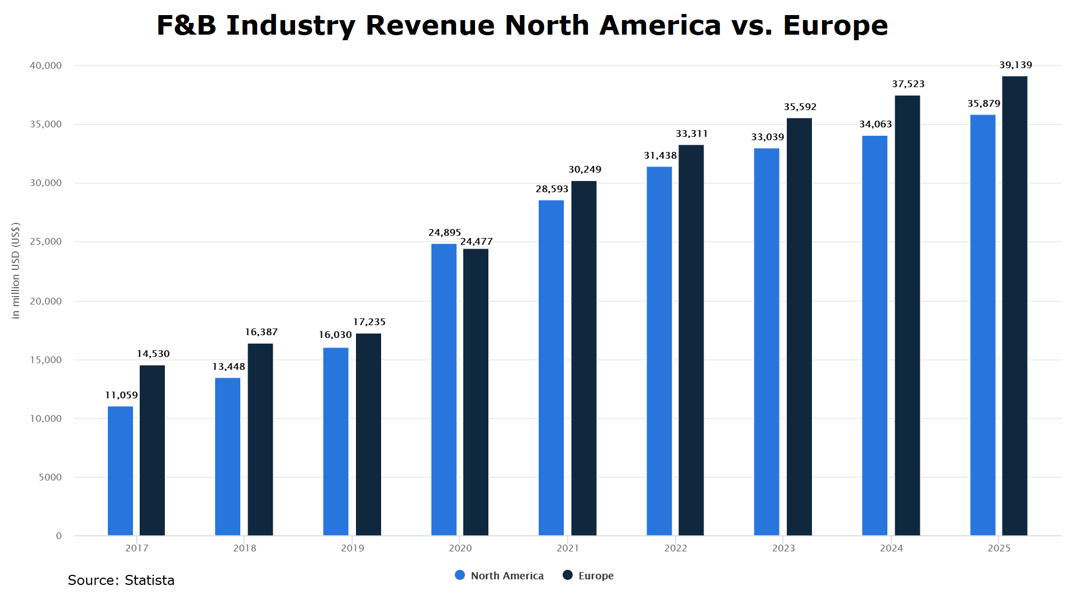 Anuga 2021 Food and Beverage Fair in a Nutshell
5 Trends in the Food and Beverage Industry Spotted at Anuga 2021
At earlier editions of the Anuga fair, we saw a lot more 'traditional' food, like pasta and meat products. Even locally produced food and beverages – a big trend a few years ago – are now seen as commodities. These developments show the incredible speed with which innovation takes place in the food and beverage industry.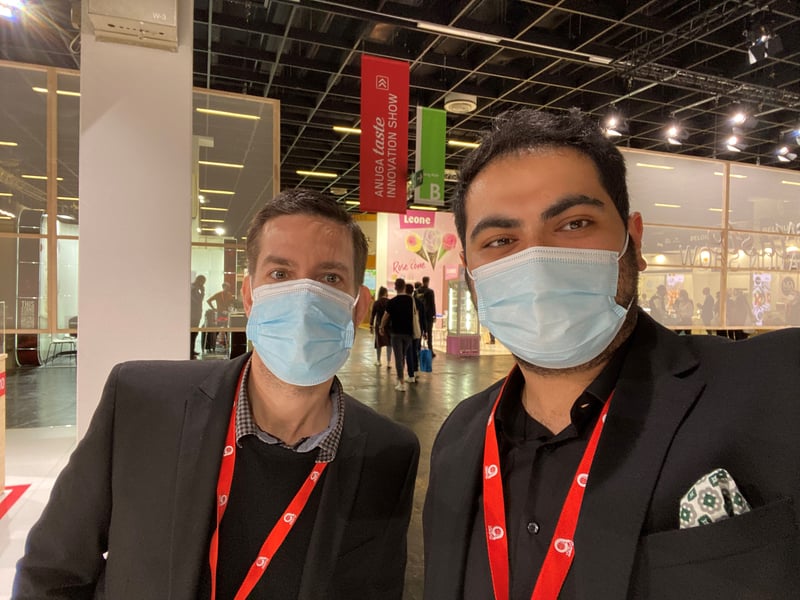 Below, we listed the five trends in the food and beverage industry in Europe we spotted at Anuga 2021:
Food and beverage trend 1 – Vegan & alternative meats
While the vegan movement was still somewhat frowned upon a few years ago, consumers embrace a (partly) vegan lifestyle these days. Now it's time for the foodservice and hospitality industry to join this food and beverage trend as well. Both the bigger existing brands and a lot of new manufacturers are taking the leap and putting effort into developing new products.
For food professionals and consumers who think that veganism is still a step too far, alternative meats display a variety of innovations. One example is extruded meat alternatives. The youngest generation of food extruders is able to imitate the texture of real meat so well that even the most fanatic meat lovers can be persuaded to try something different and skip meat for a day.
Food and beverage trend 2 – Sustainability
Sustainability regarding both the food itself and the production process is gaining more and more traction, becoming an important food and beverage trend. Biological and ecologically produced foods – e.g. without harmful pesticides – are still going strong.
Sustainability in the food production and logistics sector is stimulated not only by consumer choices but also by governmental regulations like the European Green Deal initiative. Every link in the chain 'from farm to fork' is being reviewed and upgraded.
Food and beverage trend 3 – Packaging materials & design
We spotted multiple food and beverage packaging trends at this edition of the Anuga show. Smaller portion sizes for 1 or 2 servings ask for changes in packaging. The visual aspect is also still important.
There is an increasing amount of attention to packaging design, especially because the packaging needs to match the brand image to the smallest detail. Furthermore, the increased focus on quality labels like Fairtrade, UTZ Certified, ASC, and Rainforest Alliance resulted in packaging changes as well.
However, the most important innovations in packaging are the materials. There have been huge developments in this area since 2018. As the European Commission is actively tackling single-use plastics, including Styrofoam packaging, sustainable alternatives see a way to grow fast. Food packaging manufacturers of ecological packaging will fill this gap, whether recyclable, recycled, paper or plant-based.
Food and beverage trend 4 – Unique drinks
When visiting Anuga, you would think that nobody in the world drinks plain coffee, tea, soda, and beer anymore. The trend for craft beer is still visible, but the real hype is over.
This year, we spotted a lot of unique drinks, mostly with natural ingredients and mixed flavors. Examples are drinks with aloe vera, hemp and other superfoods in them – i.e. back to nature, but with a modern twist. The addition of natural preservatives makes these drinks suitable for international export to Europe.
Food and beverage trend 5 – Ready meals and snacks
It looks like a contradiction: the world is giving more attention to ecological, sustainable food, but on the other hand, the willingness to actually prepare the food with their own hands seems to be declining.
Frozen products – pre-cut, pre-cooked, and pre-portioned for a 1-person household or even a whole family – are rising as a food and beverage trend. Food manufacturers of ready meals and snacks profit from this focus on convenience.
Of course, you need to think about shipping requirements when exporting frozen food from the USA or Canada into Europe. The most chosen options are the use of freezer containers to ship overseas, but also production outsourcing to an Eastern European country.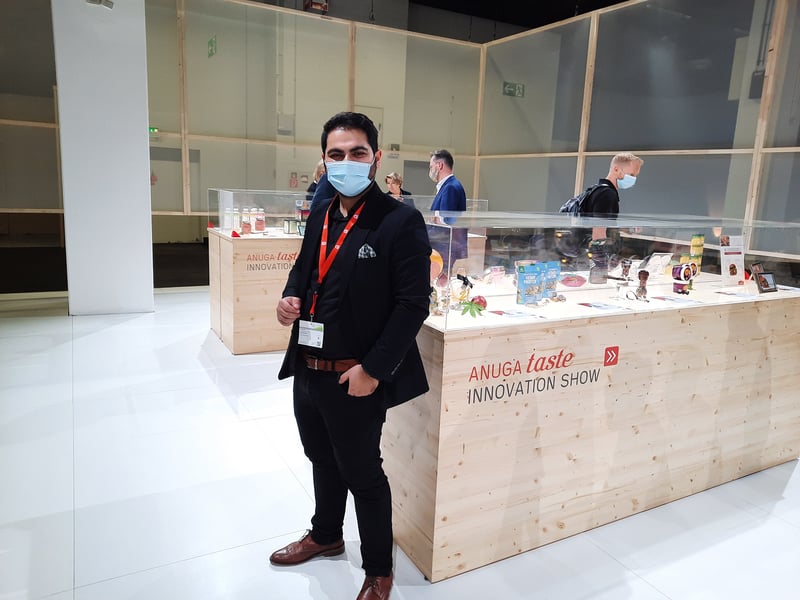 "If Anuga focuses on a certain trend, like convenience foods, we are certain to see that submarket grow in the next few years."
Bender Kilinc, Business Development Manager at EuroDev
Opportunities for North American Food and Beverage Companies
Having seen these trends in the food and beverage industry for 2021, what opportunities do we see for American or Canadian manufacturers who want to expand their business into Europe?
The market for innovative products and ingredients is growing fast, both 'green' andconvenience foods.
Al trends aside, there will still always be a market for commodity products, especially more affordable products.
The traditional supply chain is changing, which creates opportunities for food and beverage manufacturers or brands to market their own products directly.
From 2025, all disposable packaging needs to be recycled or recyclable. This is a huge opportunity for food packaging manufacturers. The EU seems to be a bit ahead in the production of materials, but North America is better at producing in a cost-effective way.
Expansion to the European Food and Beverage Industry Market
Are you a North American manufacturer or supplier in the food and beverage industry looking at international sales opportunities? Then Europe probably is a smart choice to start or expand your growth. The food and drinks market shows multiple opportunities, especially in packaging, vegan/alternative meats, and ready meals.
If you need help in getting to know the European market with all its different languages, cultures, and regulations, we are here to help. Discover our Sales Outsourcing services that help you get your boots on the ground in Europe.
Category