Are Brick-And-Mortar Stores Dying?
Last updated: 1 June 2023
The survival of many retailers was threatened due to multiple lockdowns during the COVID-19 pandemic that changed consumer behavior. In the USA, more than 12,200 major retail chain stores permanently closed. Following the trend, by April 2021, the number of new brick-and-mortar stores decreased by 33.6% compared to the previous year. The question that arises is whether the brick-and-mortar stores are dying?


Brick-And-Mortar Stores in 2022
In the past ten years, every now and then, the death of the brick-and-mortar stores is in the center of attention. After the pandemic, many thought that this is it for the retailers and that online shopping will be the only channel that will stick. And even though COVID-19 hit the retail industry hard, brick-and-mortar stores rose throughout the past year, against all the odds. Pandemic or no pandemic, the fact is that the consumers are craving an in-store experience.
However, this doesn't mean that retailers can safely assume they can continue doing everything as they did before and expect the same results. Adjustment is much needed.
Firstly, retailers will have to adopt new payment methods that will improve consumers' shopping experience. This doesn't mean that brick-and-mortar stores should accept Bitcoin, but consider expanding the forms of payment they accept.
Hyper-personalized experience will be expected by consumers and brick-and-mortar stores should be ready. Consumers are even willing to pay more, despite the inflation, if they get a first-class shopping experience.
Omnichannel retail is not leaving either. Retailers are moving towards shrinking the gap between online channels and in-store experiences. The new movement in the retail industry called "Phygital" is becoming the norm. This means that retailers will use digital means to enhance the in-store experiences and the other way around.
Top 3 Tips for Brick-And-Mortar Retailers
Consumer trends show that spending for experience will be more important than physical goods themselves. This further means that retailers will have to refine the in-store experience constantly. After the COVID-19 the weight of inflation is something that consumers can feel, and a memorable experience becomes even more important than the quality product.



On the other hand, the retail industry is embracing new technologies. And for businesses that want to ensure they are present everywhere, a blend of brick-and-mortar and online retail is a must. Retailers should use AI to track the online journey of their consumers to implement it in the brick-and-mortar store and provide an even better experience.


Nowadays, consumers don't need to visit a brick-and-mortar store, so retailers have to give them a reason to do so. With more ways to shop, those who are coming to the physical stores are seeking unique, comforting, and personal experiences. That is where customer support and store associates become a significant competitive advantage.
Brick-And-Mortar Stores from Customers' Perspective
Old habits die hard. Even though brick-and-mortar stores are closing, customers still prefer to shop in a physical store rather than online. Take a look at our infographic to see some of the recent trends amongst consumers.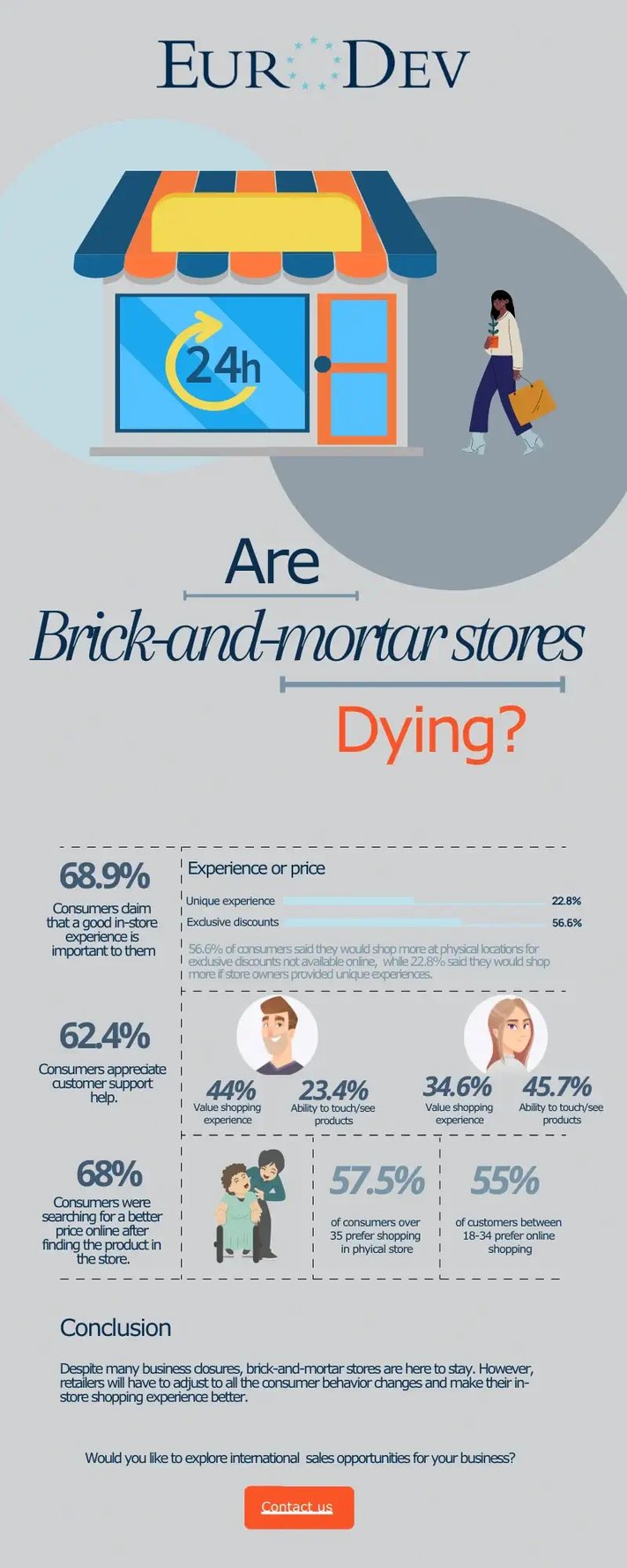 EuroDev - Your boots on the ground in Europe
Do you think it's the right moment for your business to grow in Europe? With many different languages, countries, and cultural backgrounds - the European market is not easy to penetrate for any North American company. To be successful, you will need boots on the ground in Europe. And that is where EuroDev can help you out! Our company was established in 1996 in the Netherlands with a single, defined purpose to help mid-sized North American companies expand their business in Europe. So far, we have partnered up with over 500 companies and helped them define and meet their European business goals. Services provided include Sales Outsourcing, HR Outsourcing, and Digital Marketing.
Category