Costs of Hiring Employees in Europe
Last updated: 21 September 2023
When it comes to employing personnel in Europe, one of the most frequently asked questions from our prospective clients is
"How much does it really cost us?".
In this blog, Yasmin Affandi, Financial Consultant, will share some estimations of the "true cost" of hiring employees in 3 popular European countries.
How Much Does It Cost to Have an Employee in Europe?
This is an important question, as employing a worker is not just about the salary. Think about employee benefits, social charges, insurance, retirement benefits, and other hiring cost factors that differ across countries and industries. It is particularly important not to overlook these costs.
Furthermore, employee costs and taxes differ per country and industry in Europe.
If you wonder how much it costs to have an employee in Europe, we provide a brief overview of the hiring costs in European countries.
Cost of Hiring in Germany
As the largest economy in Europe with its central location, Germany is a popular country to hire an employee among our North American clients. Next to the salary, the employer is also subject to paying social contributions which equates to approximately 20% of the salary. A customary, but not mandatory addition to this is the 13th month of salary. A 13th-month salary is a bonus that employers pay to their workers.
Bottom line: budget at least 20% more than the basic salary.
Cost of Hiring in the Netherlands
The Dutch are among the best English speakers in the world. Having one of the busiest airports and open business culture, the Netherlands proves to be an ideal place to do business.
Everyone working in the Netherlands is entitled to a holiday allowance, which must be at least 8% of the gross salary. In addition, the employer's social security charges average 20% of the salary. Some common employment benefits are also contributions to a pension plan and transportation reimbursement of EUR 0,19 per kilometer.
Bottom line: budget at least 28% more than the basic salary.
Cost of Hiring in the United Kingdom



The United Kingdom offers one of Europe's best and most diverse workforces. Besides the employee's salary, employers are also responsible for National Insurance Contributions of 13.80% and auto-enrolment pension contributions of at least 3%.
It is already clear that Brexit causes concerns over the future labor supply. For employers facing uncertainty, this means putting resources and thinking into workforce planning. In case you would like more information on this, we would love to get in contact with you.
Bottom line: budget at least 16.80% more than the basic salary.
Learn more about hiring in the UK after Brexit.
Hiring Costs in Europe Put Into Practice
To make it more practical, we will use a case. Scott (32) is employed by a software company based in the US but is executing his working activities in Europe. His yearly gross salary is EUR 80.000, excluding any other benefits.
What are the costs for an employer if Scott was working in Germany, the Netherlands, or the United Kingdom?
Country
Germany
The Netherlands
United Kingdom

Gross annual salary

€ 80.000,00

€ 80.000,00

€ 80.000,00

Gross salary per month

€ 6.666,67

€ 6.666,67

€ 6.666,67

Employer's taxes in % (average)

20%

20%

13.80%

Employer's taxes in € per month*

€ 1.333,33

€ 1.333,33

€ 920,00

Mandatory benefits (monthly)
holiday allowance

€ 533.33

Pension

€ 200,00

Total costs p/month

€ 8.000,00

€ 8.533,33

€ 7.786,67

Total costs p/year

€ 96.000,00

€ 102.399,96

€ 93.440,04
What are the costs for an employer if Scott was working in other European countries? Figure 1 shows our estimation of employer's taxes across 10 different countries in Europe.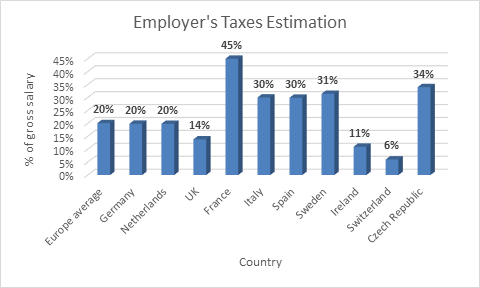 Please keep in mind that the estimations only concern the monthly costs of employing a worker. Other costs such as recruitment, set up, and on- and off-boarding costs are excluded. Exceptions may apply.
Check out EuroDev HR Outsourcing services to find out more about hiring in Europe.
More information
If you would like to have more information or details on the true costs of hiring employees in a European country, please do not hesitate to schedule a call with our VP of HR Outsourcing, Monique Ramondt-Sanders, with no obligation.
Category