4 Major Business Advantages of European Crisis Management
Last updated: 1 June 2023
It has been widely reported that European stocks have finished with their worst first half since the global financial crisis in 2008. With that information in mind, investors fear that central banks rising interest rates to tame raging inflation could push Europe into a recession. And while the situation seems especially dark for US manufacturers wanting to expand to Europe, predictions might not be as negative as reported by mainstream media outlets. Let's take a look at the numbers...
Consumer spending remains strong
Despite soaring inflation and recession worries, European citizens continue to spend on goods and services. Consumer spending, which accounts for over half of the economic activity in the eurozone and even more in the US, is witnessing a solid rebound from the pandemic lows as households replete with cash go on shopping sprees.

"Consumption is one of the pillars of growth we're looking at. It's the biggest component of GDP. The sort of pent-up demand that we're seeing from consumers is going to support the outlook," economist Rory Fennessy from Oxford Economics told DW, adding that he doesn't see the eurozone slipping into a recession just yet.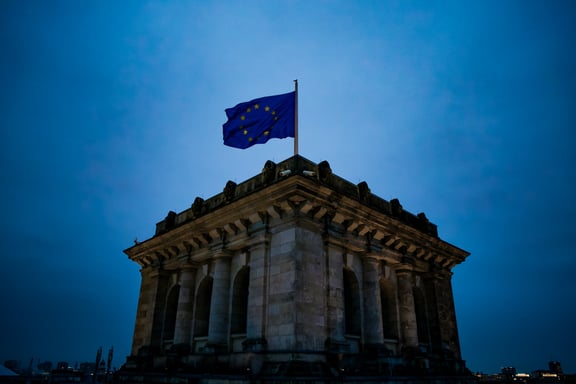 While warning of an increased probability of recession in the US, investment bank Goldman Sachs analysts said in May that strong consumer spending remained a bright spot that could help ensure a so-called soft landing for the economy — where inflation is tamed without actually causing a recession. "Surpluses generated today by households and high-yield businesses bolster the outlook for consumer spending and business investment", the analysts wrote in a note to clients.
Resurgent services sector
Sectors such as tourism, travel, and hospitality are witnessing a strong rebound as COVID restrictions are lifted, as is evidenced by the chaos at airports and rising hotel prices, adding to hopes that a recession isn't a done deal yet. While high-contact services were dealt a massive blow by lockdowns and travel restrictions with people switching to buying goods from the comfort of their homes. Now, services are witnessing a resurgence thanks to pent-up demand.
"Recovery is very much underway, driven by services. We are noticing a swing from goods to services," ECB President Christine Lagarde said in June.

The services sector is an important driver of overall economic activity in advanced economies, accounting for over 70% of total output in the eurozone and about 80% in the United States.
Job markets remain strong
The eurozone's labor market has outperformed expectations since the start of the pandemic, with the unemployment rate falling to a new record low in May. A strong recovery in tourism and hospitality is expected to continue supporting job growth even as prospects dim in the industrial sector, which is suffering from supply chain disruptions and higher energy costs.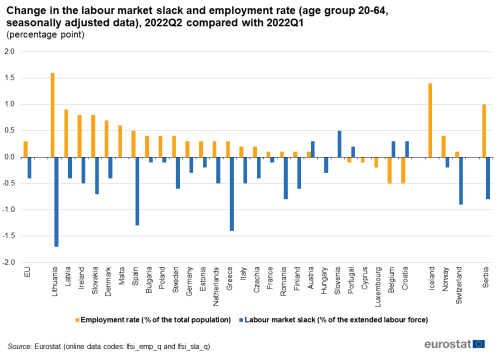 In the second quarter of 2022, the employment rate of people aged 20 to 64 was 74.8 %, while labor market slack stood at 11.5 %. For its part, the employment rate rose in the majority of EU Member States (20 countries), and decreased in Croatia and Belgium), Luxembourg, as well as Cyprus and Portugal.
Governmental Incentives To Keep Spending Power
Unlike the 2008 recession, which was caused by a credit crunch and collapses in asset prices, the recession this time around would be driven by a fall in the real incomes of households because of the increase in energy prices. To provide a solution governments have come out with policies to cut the energy tax, provide cheap public transport, and help businesses with loans if they're struggling with exorbitant energy costs.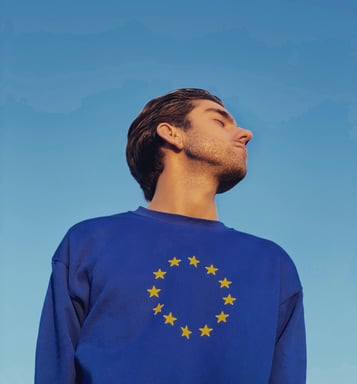 European economy is being further supported by the continued relaxation of fiscal rules in the eurozone, which means governments aren't required to tighten the purse strings just yet. Southern European economies, which are already seeing a jump in borrowing costs following the ECB's hawkish turn, are likely to benefit from the billions in funds being disbursed as part of the NextGenerationEU economic recovery package.
The core European economies like Germany — with relatively low levels of debt as a percentage of GDP — still have a lot of spending power to help prevent a recession, experts say.
Interested to learn more about your company's potential to expand into the European market? Feel free to schedule a meeting with us and we will be more than happy to guide you through your European expansion. 
Sources: Deutsche Welle, IMF
Category