Gardening Market Trends in Europe 2022
Last updated: 29 September 2023
As the pandemic started, many of us dusted off our gardening gloves and decided to make the most of our outdoor space. Because people are paying more attention to outside space, the landscaping and gardening market is growing at a steady pace.
Will the garden market size in 2022 keep up with the growth trend?
It is estimated that the market size of lawn and gardening equipment in Europe will significantly increase between 2022 and 2026. Predictions are speculating that the total will be over 14 million units. Keep reading to learn more about the opportunities in the gardening and landscaping industry in Europe.


Gardening Market Overview
Demographic shifts and lifestyle changes are creating new opportunities in the gardening industry. The millennial population is interested in urbanization and that led to gardening in small spaces. Slowly, but surely, gardening is being embraced as one of the favorite hobbies amongst people. Most importantly, the demand originates from the high-income demographic, which generates a healthy portion of the market revenue.
Some of the factors that are helping growth are new gardening practices, a rising number of multifamily properties, organic gardening, and increasing demand for outdoor natural aesthetics. All of these factors are helping this industry bloom.
The European Landscape Contractors Association (ELCA) is promoting the importance of landscaping and gardening activities through various initiatives. Together with Denmark, Finland, Romania, Spain, the Czech Republic, and the Netherlands, they are building a European Platform for Urban Greening. The aim is to increase the knowledge about biodiversity, climate adaptation, and well-being in the urban green living environment.
The garden market is trying to stay innovative by developing a high variety of designs that differ in the level of complexity. Unique designs are always highly considered. Of course, like in any other industry, several designers are developing sustainable landscapes and gardens. The key focus is on:
Water usage,
Native planting,
Efficient irrigation,
Managing stormwater runoff and
Reducing lawns.
All of this is achievable regardless of climate or clientele.
Lower-maintenance plants are gaining popularity nowadays. They are not using excessive water and that makes them sustainable. Reducing grassy areas is also gaining popularity, so many designers are replacing lawns with native grasses that don't need watering at all.
In addition to selecting the appropriate greenery to make a garden sustainable, players are also focusing on hardscaping, especially when it comes to managing water retention and runoff. For example, rather than concrete or pavement slabs, they create permeable surfaces that allow stormwater to seep back into the ground.
Market Share
Some of the major companies in the global market are BrightView Holdings Inc., SMART STONE, Yellowstone Landscape, Denison Landscaping, and Asia Flora & Landscape Sdn Bhd.
The leading companies on the market are expanding their services to gain a competitive advantage over others. They are opening and expanding their operations into new markets. For example, Yellowstone Landscape expanded its operations to the Austin location.
Merger and acquisition is another major strategy that key players are embracing. With the new technologies, there is still room for more competitors who are willing to expand their business. The current market situation allows service providers to adjust and improve their value proposition to attain a good business presence.
Segmentation in Europe
Until 2019, gardening growth in Western Europe was significant. Today, the fastest-growing market for gardening in Europe is Germany, followed by the United Kingdom, France, Denmark, Netherlands, Italy, and Spain.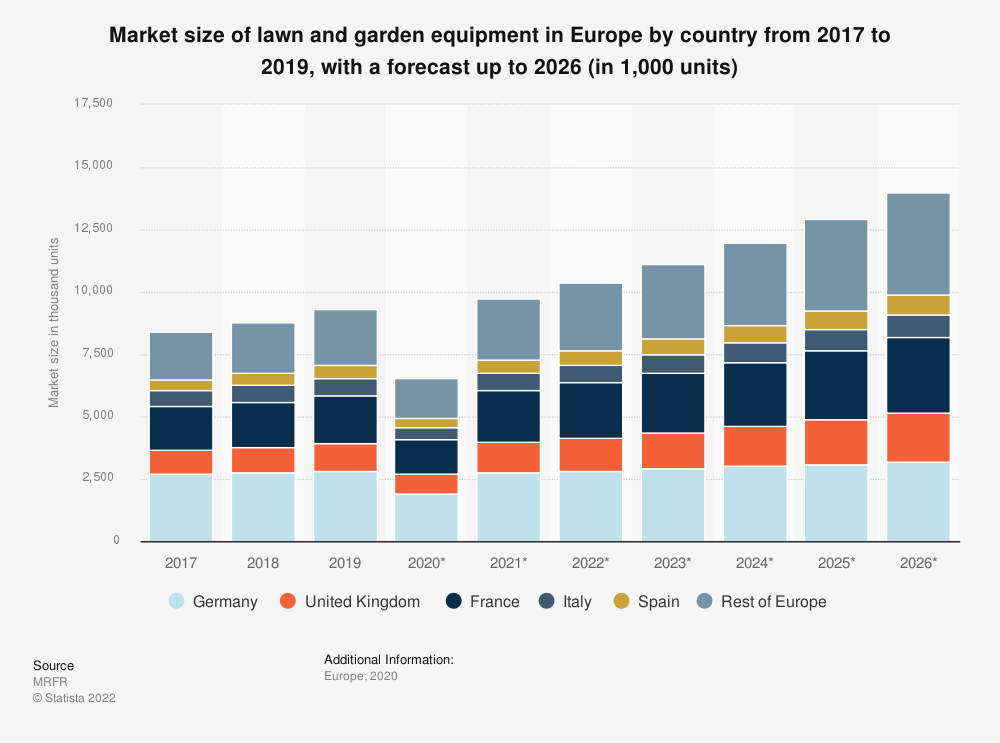 Where our expertise comes into play
Do you think it's the right moment for your business to grow in Europe?
With many different languages, countries, and cultural backgrounds – the European market is not easy to penetrate for any North American company. To be successful, you will need boots on the ground in Europe. And that is where EuroDev can help you out!
Our company was established in 1996 in the Netherlands with a single, defined purpose to help mid-sized North American companies expand their business in Europe. So far, we have partnered up with over 500 companies and helped them define and meet their European business goals. Services provided include Sales Outsourcing, HR Outsourcing, and Digital Marketing.
Source: Statista.com
Category