63% of Clients Agree on One Thing When Marketing in Europe
Last updated: 1 June 2023
"We need a plan"
These are almost the exact words that customers use when we first speak to them. And they are right. There is no silver bullet in digital marketing, merely because it is impossible to ricochet a single marketing effort across 25 touch points that a prospective customer needs to convert. In the current, demanding digital landscape, there is a lot of internal and external pressure on marketing teams to continue growth during times of inflation. So they are right, a structured marketing plan around a funnel proven to boost performance is the only way to go.
Rallying internal support behind a full-funnel approach is any marketing department's eternal challenge. Business owners, finance, and operations directors need to know what they are investing in and the returns they will get. A comprehensive strategy-build will bring confidence to the organization that the marketing team is spending their time on the right activities and investing in the appropriate types of media to get a positive return. The overarching business objectives should be locked in the dead center.


Importance of European brand building (during a recession?)

Marketing spending fell rapidly during the 2007-2009 recession, partly because companies were trying to survive. In the US, local and national segments of advertising fell by 21% and 14%. The current inflation rate, as well as the warning signals by tech leaders like Snapchat's CEO, Evan Spiegel about pending slowdowns in revenue growth –, indicate bad news for the economy in general.

No reason to panic though, the projected intervals between economic expansion and recession have a 10-year span. So you can argue, that it was on the agenda. And the good news is, that most predictions describe a mild economic downturn. Nothing you cannot handle.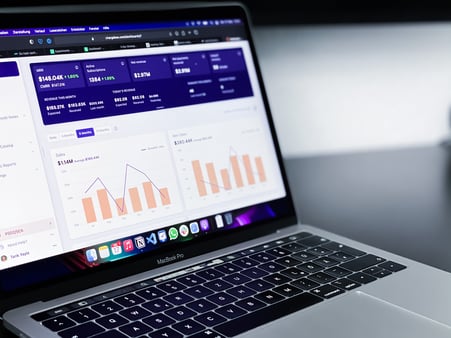 Multiple kinds of research shows, that companies should continue to advertise their brand. This VAB research points out that the dangers of decreasing the noise that your brand is making during a recession can have a significant impact on your longer-term market position. Once the recession is over, advertising spending will go up – overcrowding the market and limiting your potential gains. Therefore, the gains of the firms that continued to push during a recession, persist.


Long-term vs. short-term activation

We recommend a 70/30 split between brand-building advertising and short-term activation, for North American B2B companies marketing digitally in Europe. For a lot of companies, an organically driven approach to the European market works best. Strong multilingual keyword research creates an edge over your competitors, targeting keywords that plenty of people search for in the target countries. Often, they are quite easy to rank for. Machine translations just do not cut it. A multilingual SEO strategy will be the rock-solid foundation on which you can build a lead-generation European web presence.


Measuring health: Digital KPIs

Marketing can sometimes struggle with pinning down KPIs at the start of a project. Especially when approaching a new market like Europe, you want to prevent a situation where you are destined to fail. We recommend working with scenario-based KPIs, especially when attacking a new vertical or country. By defining negative, neutral, and positive bandwidths for each KPI, there is more tactical space to refine your efforts in order to move between each scenario. These scenarios should be under constant revision, often on a quarterly basis. This encouraging method will allow your team to pursue perfection in an agile (and fun) way.



What Did We Learn?
A full-funnel digital marketing strategy should be designed around the major business goals for the territory or vertical. To maintain alignment with the rest of the business, marketing teams should place these objectives at the front of their communication.


A pending recession offers marketing teams the opportunity to put significant distance between you and your competition. Ad spending tends to shrink, the effectiveness of maintaining your efforts will go up – causing you to be better positioned when the economy turns for the better.


Focusing on long-term organic relevance will reap benefits in the future. In Europe, North American B2B companies should have a multilingual-powered SEO strategy in place to power their digital Rocketship.,



Incorporating KPIs can be challenging when attacking a new market, territory, or vertical. Because of the absence of data, using a scenario-based measuring tool is a safe but inspiring way to boost your results.
Want to better prepare your business for new policies in data sharing? Connect with us.
Sources: VAB, The Verge
---
About EuroDev
By developing a digital marketing strategy tailored to Europe, we enable you to gain a foothold in the European market. We are the experts in Europe, you are the expert in your business. Together we will achieve success. We are convinced that digital marketing is not an "afterthought", but a crucial investment needed to get a foothold in an increasingly complex sales landscape. That's what we believe in.
Discover more about Digital Marketing services provided by EuroDev.
Category