Homewares: Trends and Inspiration
Last updated: 26 September 2023
Europe plays a key role in the homeware and furniture sector, and it is anticipated to experience strong growth in the upcoming period. By 2026, the furniture market in Europe will increase by USD 35.93 billion, as predicted. This is significant growth considering that the furniture market already experienced growth of 3.13% in 2022.
Here is what you should know about the European homewares and home furnishings market.
The Main Homeware Market Growth Drivers
The furniture market is an important part of the global economy. Furniture is all around us, in our homes, offices, schools, and even outdoors. Furniture pieces will always be in high demand.
With the rising numbers in the real estate and construction industry, it's no surprise that the furniture industry market is growing, too. An increase in the number of office spaces, commercial complexes, and residential buildings is all helping the homewares and furniture industry flourish.
On the other hand, there's been an increase in the number of single-person and two-person households, which has contributed to an increase in residential construction activities.
Customized furniture
Nowadays, our lifestyles are changing, and the longevity of baby boomers and growing urbanization are contributing to the rising demand for customized furniture. Multifunctional furniture is becoming more and more popular due to the lack of space and high demand for real estate. Artistic, unique, well-designed furniture pieces are very popular nowadays. People are trying to keep up with trends, not only in the clothing industry but in furniture and homewares, too.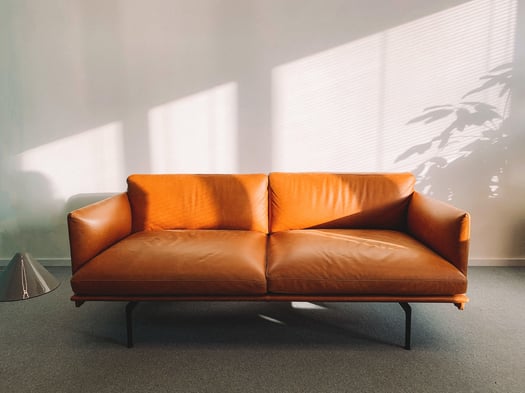 Eco-friendly furniture
Let's not forget the importance of adopting eco-friendly furniture. The furniture market and other industries are standing together against global warming and deforestation. That is why biodegradable, sustainable, and renewable raw materials are used for manufacturing eco-friendly and organic furniture.
The trend was adopted first by luxury furniture manufacturers. Vendors such as Alta Decoración ArtesMoble SL and Vermont Woods Studios LLC are well-known brands thanks to the eco-friendly and organic furniture they manufacture.
Wooden furniture
At this point in Europe, wooden furniture is the most popular. Manufacturers are mostly using Oak because it is extensively available in the region and not very expensive. By using it, many European furniture manufacturers are managing to keep their competitive prices.

Even though growth is predicted for the furniture and homewares industry, there is no doubt that it will be a challenging period for everyone because of the increased price of raw materials and labor. This trend is not affecting only manufacturers, but also vendors. Transportation of raw materials (such as wood) is also reflected in the cost of the end product. Therefore, both manufacturers and vendors are trying to be creative when it comes to selling their goods.
The Furniture Market in Europe
The furniture market in Europe is segmented, and the vendors are developing growth strategies to compete in the market. The businesses with the most innovative products are more likely to succeed.
However, the key players in the furniture market shouldn't expect to grow overnight, it's a rather slow process. The main goal of the market vendors in the post-COVID-19 period is to maintain their positions.
European Smart Home Market
The smart home market in Europe keeps growing and developing. The projected revenue for the year 2022 is US$33,861m, which is an annual growth rate of 12.34%. If the same trend continues, smart home revenue by 2026 will be US$53,931m.
With more active households embracing this trend daily, predictions are that five years from now, there will be over 126 million users. The average revenue per installed smart home is expected to reach US$532.90 by 2026.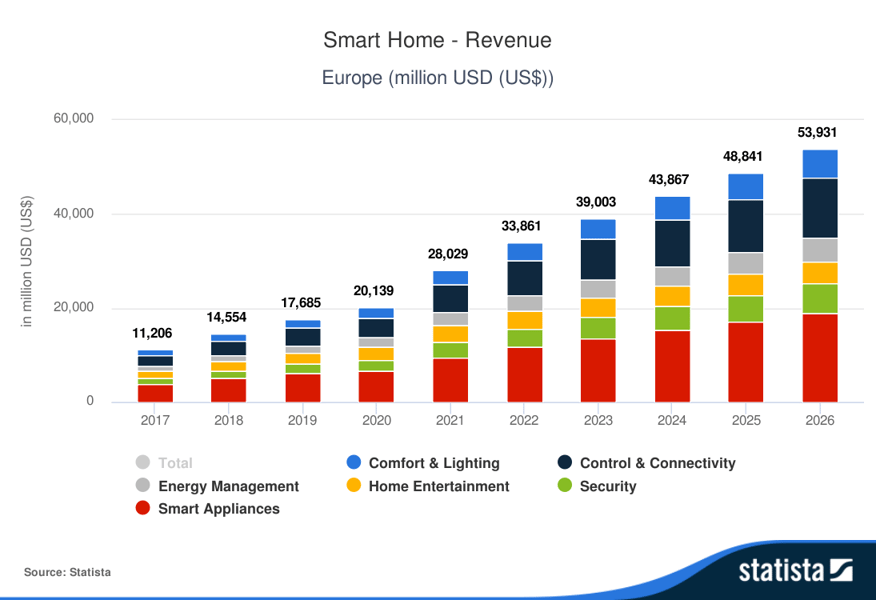 Sales Distribution Channels in the Furniture & Homewares Market
As you probably know, doing business in Europe is completely different from any sales operations you are performing in North America. The predominant houseware market distribution channel will be offline. Predictions are that the increase will be significant, and many vendors are expanding their offline stores across Europe.
According to Statista, there won't be any major changes when it comes to sales distribution channels in the upcoming period.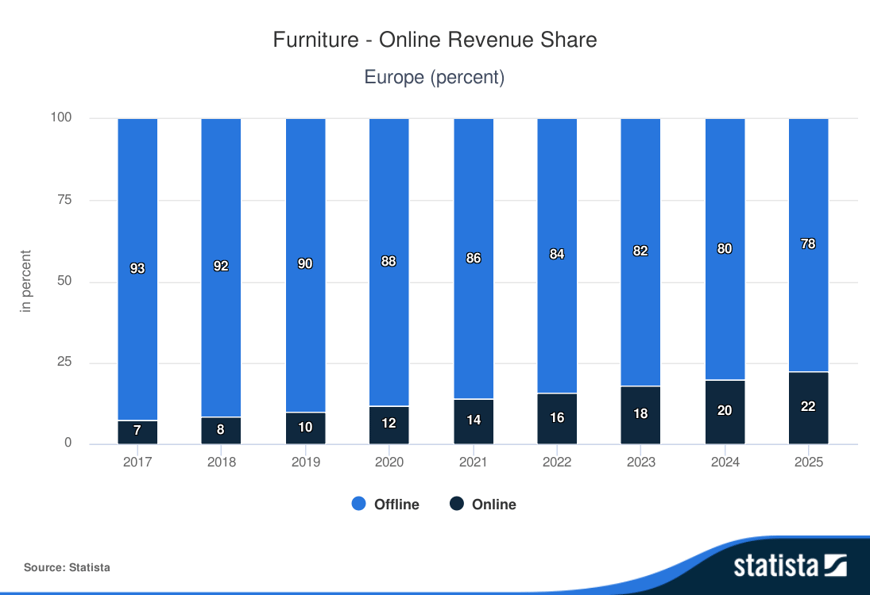 Conclusion
The core components of the home and houseware market include inputs, inbound & outbound logistics, operations, marketing & sales, service, support activities, and innovation. That is why it is difficult for any North American company to penetrate the European market.
To be successful, you will need boots on the ground in Europe. And that is where our expertise in Sales Outsourcing comes into play.
Sources: Statista.com, Technavio
Category