Top European Food Technology Shows
Last updated: 28 September 2023
For manufacturers who are considering expanding into the European market, it is important to use trade shows to carry out market research, understand regulations, and meet with relevant industry players.
Attending European trade shows can offer manufacturers in the food technology industry a number of advantages. Being present at the trade show can provide you with a concentrated opportunity for qualified leads and distributors from different European regions. Further, it is relevant to use these platforms to understand the different regulatory requirements for your products and how these might impact your entry strategies.
With this said, this blog article will focus on the different European shows in the food technology market that you should never miss.
The European Foodtech Market
Foodtech is a term used to refer to different startups and entrepreneurs working to recolonize the food industry. This is mostly in the supply chain, AgTech, food sciences, services, delivery, and consumer tech. In the European sector, end-users of these technologies are currently seeking to leverage innovative technologies that create efficient and sustainable food systems.
According to recent data, the global food tech market size is expected to continue growing to an estimated $342.52 billion by 2027. The market's expansion is attributed to the quick development of online food delivery services and the increased popularity of online shopping for healthier food items. The B2B European food tech has more companies developing enabling technologies that are applicable in different food-tech sectors. These companies are focusing on using technologies to solve various industry-related problems, hence shaping a way for more robust food systems.
In the past years, Europe's food and beverage industry has gained traction and is continuously catching up with North America. Cities like Berlin, Paris, and Singapore are boosting developments in the food tech sectors. Food production technology venture capitals are going to the UK, DACH region, and France.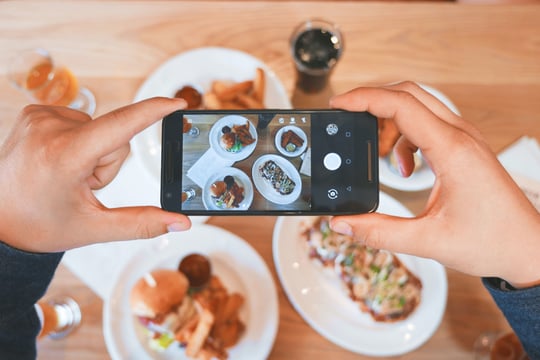 Top food technology trade shows in Europe
1. Anuga
Anuga is the world's largest food and beverage trade show. It is held once every two years in Germany. This show is home to more than 7,500 exhibitors and 50,000 visitors coming from all around the world. Exhibitors cover segments including, meat, dairy, frozen foods, baked goods, beverages, and many others.
This show is a wonderful platform for manufacturers who want to explore the European food and beverages industry to meet industry professionals, manufacturers, suppliers, retailers, importers, exporters, and wholesalers.

2. SAIL
SAIL is another leading food and beverage trade show vital for manufacturers in the food tech market. The show is held once every two years in France, hosting on average 7200 exhibitors and more than 310,000 visitors from all around the world.
Manufacturers can learn about different trends and developments in the food market from the different programs and events hosted at SIAL. The SIAL Innovation Awards, SIAL TV Studio, SIAL World Tour, and many others offer incredible insights into food trends and innovations within the European food and beverage industry.
3. Food Ingredients Europe
Food Ingredients Europe is another biennial trade show that B2B industry players should not miss. The show is hosted in different European cities and often brings together more than 1,700 exhibitors and 24,000 visitors digitally and in-person from around the region.
Food ingredients Europe is important for B2B manufacturers of food ingredients. Being the only show focusing on food ingredients provides suppliers with a niche platform for buyers.
4. EuroTier
EuroTier is a German-held trade show that focuses on bringing together suppliers in animal food and product production. The show is hosted biennially, bringing together over 2600 exhibitors and 160,000 visitors.
EuroTier is dedicated to animal husbandry and livestock farming, providing attendees with a platform to connect and showcase their products and services and exchange knowledge and ideas with the relevant group of customers.
This show provides players in the animal husbandry and livestock farming industry an opportunity to learn the latest trends and developments within the sector.
5. IBA
IBA is a trade show for suppliers in the bakery, confectionery, and snacks sector. This show is only held in Germany every three years. The last IBA trade show welcomed more than 1,300 exhibitors with 76,000 visitors.
Players in this industry can use this IBA trade show to learn the entire value chain of bread and baked goods on the European market. This will cover broad products like raw materials equipment, ingredients, dietary advice, services, and many others.
Hence, do not miss out on exploring the trends and developments in the food tech industry when it comes to baking, confectionery, and snacks in Europe.
6. Vitafoods Europe
Vitafoods Europe is a trade show that focuses on nutraceuticals and functional foods. The show is hosted every year in Geneva, Switzerland, and houses about 1,100 exhibitors and 15,000 online and in-person attendees.
The show provides innovative products that help drive new product development in the European food tech industry. This show enables food and beverage industry players to keep up to date with the latest trends and developments within their industry.
7. Alimentaria
Alimentaria is amongst the largest food and beverage trade shows that drive continuous development in the European market. Alimentaria is hosted biennially in Barcelona, Spain, and hosts about 4,500 exhibitors from all around the world. More than 100,000 visitors come to the event every year. The show has a strong focus on Mediterranean cuisines featuring a wide range of products and services related to the culinary tradition.
Hence equipment manufacturers and software solution providers interested to grow in this market can take advantage of this trade show to meet with manufacturers, distributors, end-users, regulatory bodies, and associations to boost their knowledge of the food and beverage industry in Europe.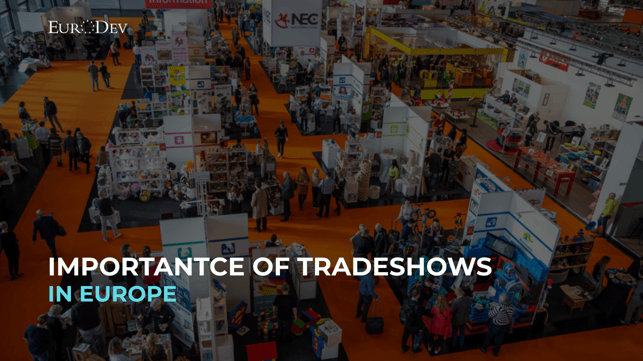 Opportunities for North American companies
Exhibiting or visiting the food and beverages trade shows can present many opportunities for manufacturers who want to expand their business in Europe.
Manufacturers can use this platform to identify innovative products and




ingredients in the market.

Most trade shows on the European market are focused on AI trends that




might impact the value chain of the food & beverages market.

Trade shows like Anuga, SIAL, and Alimentaria have also focused on supply




chain changes and how manufacturers from North America can help improve




this challenge in the European market.

From 2023, all disposable packaging needs to be recycled or recyclable.




This presents opportunities for NA food packaging manufacturers.



About EuroDev
Welcome to your European office!
From our headquarters in Almelo, the Netherlands, we have helped over 500 companies with their European business expansion. Whether you need market research, lead generation, digital marketing, PEO or EOR services, EuroDev is your one-stop shop for international growth.
We'd love to learn about your company's expansion plans. Let's meet soon for coffee to talk!
Category