Retail Technology Trends in EU: Latest Innovations
Last updated: 26 September 2023
The recent developments around the world have made all industries dependent on advanced technologies. Developments such as the corona pandemic and internet penetration have not only led to the disruption of brick-and-mortar stores but also seen an evolution in retail software.
The unrest caused by the corona pandemic has increased the value of e-commerce in Europe to USD 393.8bn by the end of 2020 and is predicted to grow to USD 510.5bn by 2024. The growth is expected to rise due to the increasing demand for SMACT (Social Mobile Analytics Cloud and IoT) technologies across the region's retail sector.
The European retail industry is currently influenced by the following market opportunities and retail technology trends described in this blog.
Retail Tech Evolution: Augmented Shopping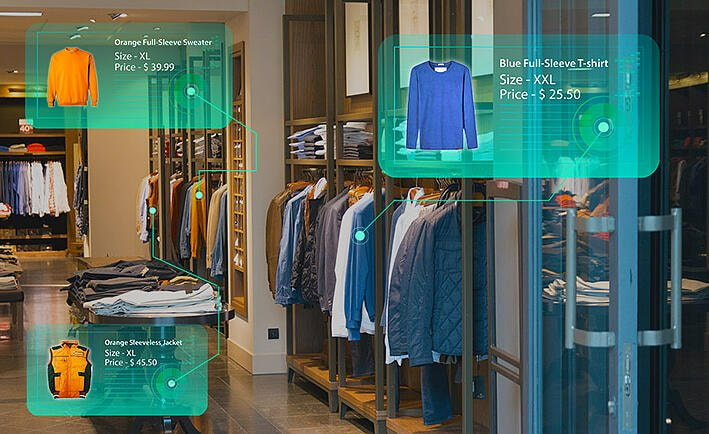 Source: Augury.com
2019, Gartner predicted that by 2020, more than 100 million consumers are expected to use augmented reality to improve their shopping experiences. With the isolations and lockdowns around the world, this prediction has greatly increased the demand for virtual fitting room systems.
This system imitates the "try before you buy" approach by enabling the customers to interact with products virtually. Brands such as Lacoste, American Apparel, Uniqlo, IKEA, and Amazon embraced this retail technology trend, opening virtual showrooms and fitting rooms to allow customers to try products in virtual spaces.
The Cashless Trend in
Retail Technology
The growing need to socially distance has increased the demand for different software retail tech to reduce the spread of the coronavirus. According to a survey carried out by Shekel Brainweigh Ltd on customers' habits towards COVID-19, more than 87% of the customers will shop in stores with contactless or self-checkout options.
As such, stores in Europe are continuously adopting RFID tags, computer vision systems, machine learning, IoT devices, and facial recognition to improve customer experiences and prevent the spread of coronavirus.

Tech Trend Reshaping Retail: Voice Commerce
In retail stores and e-commerce, voice-assisted technologies help make sales through voice recognition technology. The retail technology trend is known as "voice commerce," a concept that is also known as e-commerce.
Research indicates that at least 60 million people globally have at least one smart speaker system in their homes. The market is expected to grow by 17.2% from 2019 to 2025, hence reaching 26.8 billion by 2025.
This market is influenced by the increasing demand for:
Smart devices,

Technological advancements,

The need for personal data,

safety, security,

The use of voice-enabled payments and shopping by retailers.
Robotics Technology Revolutionizing Retail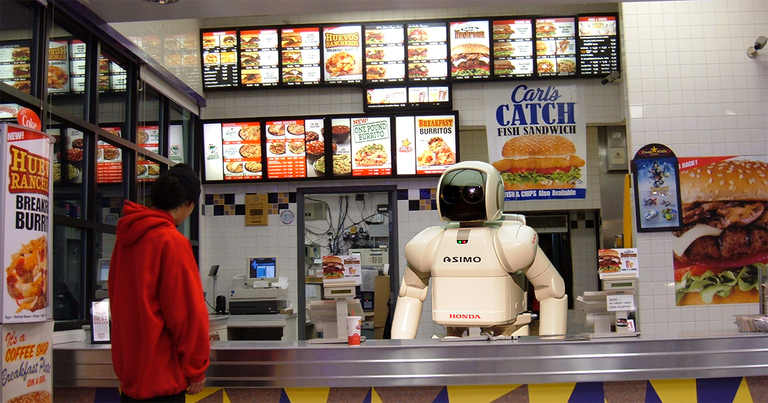 Source: netmag.pk
In a world where social distance had become the new normal, many retailers were looking for better ways to prevent the spread of COVID-19. Consequently, the adoption of robots replaced some human activities such as cleaning, moving goods from shelves, tracking, and many others. These have used software such as AI to improve operations.
More retailers are aiming to adopt the use of aerial drones, shelf-auditing robots, autonomous vehicles, and many other retail technology inventions.
This industry is predicted to advance at 18.4% during 2023-2030, ultimately garnering 191.6bn by 2030. The increasing need to improve customer services, logistic management, delivery services, and errand ranking are the major drivers for the use of robotics and tech in retail stores in Europe.
Conclusion
As technology continues to redefine businesses and customer experience, embracing retail tech trends is necessary to stay competitive in the European market.

EuroDev can help you stay attuned to the latest retail technology trends and developments, propelling the retail industry forward. Discover the many opportunities that the future of retail brings in Europe with us. For more information, visit Sales Outsourcing.
Category