Top Dental Supply Companies in Europe
Last updated: 26 September 2023
After the strict regulation during the pandemic, with many dental practices experiencing a decline in patient volumes and revenue, the market started showing growth over the forecast period. The increase in dental issues and the rising demand for effective surgical dental care services are the primary factors that will drive the growth of the market.
In addition, the industry of dental equipment is being greatly fuelled by the rising popularity of cosmetic dentistry as well as the widening selection of dental supplies, such as crowns and bridge implants. According to a report by Research and Markets, Europe will play a significant role in driving the growth of the worldwide dental equipment market, which is anticipated to reach USD 7.52 billion by 2025.
This blog highlights some of the prominent distributors of dental equipment in the European market, presenting top dental supply companies in Europe.
1. Henry Schein Dental
Henry Schein is a leading global distributor of dental and medical products and services for more than 1 million customers globally. In the 1960s, the business moved into the dental supply industry, and by the late 1980s, Henry Schein controlled about 10% of the market.
Henry Schein Dental is part of Henry Schein, Inc., which is a Fortune 500 company and one of the largest healthcare product distributors in the world. A centralized, automated delivery network is used by Henry Schein, which offers a selection of more than 300,000 branded products.
There are around 21,000 team members worldwide, and there are operations or affiliates in 32 countries and territories. The Company's network of trusted advisers offers 300 valuable solutions that aid in improving operational effectiveness and clinical outcomes.
2. Dentsply Sirona
Dentsply Sirona is a global leader in the manufacture and distribution of dental equipment and supplies. The business, founded in 1899 in New York City, has a long history of innovation in the dentistry sector and has expanded to rank among the biggest providers of dental technology worldwide.
Dentsply Sirona is well-positioned to meet the needs of dental professionals and patients globally thanks to its presence in more than 40 countries and a large group of 15,000 employees working worldwide. Dentsply Sirona has an extensive global network of dealers and dental supplies distributors spread across the globe. The distribution network of Dentsply Sirona also features an online store where clients may place orders and access support and resources.
3. Patterson Companies
Patterson Companies is a diversified distributor of dental and veterinary products and services in North America. The company was founded in 1877 and is headquartered in St. Paul, Minnesota. With operations in the UK, France, Germany, and other nations through partnerships and distribution agreements, the corporation has a significant presence throughout Europe.
As of February 2023, Patterson Companies employs over 7,500 people worldwide. For over 140 years, the company has been committed to providing high-quality products, innovative solutions, and exceptional customer service to dental and veterinary professionals.
There is a vast network of partners, clients, and suppliers for Patterson Companies. To keep abreast of the most recent trends, studies, and breakthroughs, Patterson Companies has also developed strong partnerships with important opinion leaders and specialists in various sectors.
4. Straumann Group
Straumann Group, founded in 1954 in Waldenburg, is a leading dental supply distributor, providing implants, prosthetics, and digital solutions. The company has 7,000 employees worldwide, a strong presence in Europe, and around 60 years of experience. With operations in over 70 countries and a network of trusted partners and distributors, it is well-positioned to serve the needs of dental professionals and patients around the world.
The Group collaborates with academic institutions, medical facilities, research facilities, networks, and communities to set higher standards for patient care. With a vast network of distribution subsidiaries and partners, its goods, solutions, and services are offered in more than 100 countries.
5. Ivoclar Vivadent
Ivoclar Vivadent is a leading global provider of innovative dental products and solutions. Established in Liechtenstein in 1923, the business has now grown to operate in over 120 nations, providing superior goods and first-rate customer support to dental professionals and patients alike. 3,500 employees are working for the company around the world. The business has established a reputation as a leader in the dental sector thanks to its commitment to quality, and it will continue to do so by fostering innovation and expansion in the years to come.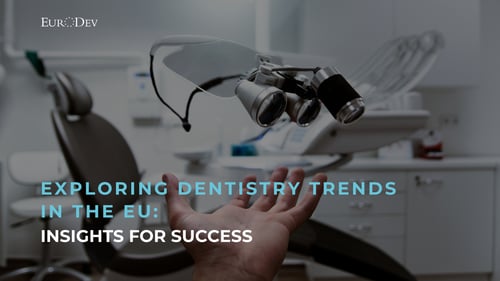 6. Planmeca
Founded in 1971, Planmeca is a manufacturer and distributor of dental equipment and digital imaging solutions. With headquarters in Helsinki, the company distributes its products to over 120 countries, which tells about a global presence and strong reputation for innovation, quality, and reliability. With 4,500 employees worldwide, the company is committed to sustainability and corporate social responsibility and operates in an environmentally responsible manner.
Dental experts in more than 120 countries use Planmeca's products, which have won numerous honors and praise for their quality. Also, Planmeca supports several charitable causes and activities, such as dental treatment for underprivileged communities and training for dental professionals.
7. W&H Dentalwerk
W&H Dentalwerk is a global dental supply manufacturer and distributor of dental equipment, including handpieces, turbines, and surgical units. The company was founded in 1890 and is headquartered in Bürmoos, Austria.
W&H Dentalwerk is currently functioning in more than 110 countries throughout the world and has a significant presence in Europe. The organization has a solid reputation in the dental market for its devotion to quality and innovation thanks to its more than 1,200 employees around the world.
The fact that W&H Dentalwerk uses advanced technology and materials to produce goods that are reliable, effective, and durable is one of the fundamental distinctions between it and other distributors. W&H is still a family-owned business and has expanded thanks to its flawlessly organized sales network, various subsidiaries, and superb, trustworthy partners.
8. GC Europe
GC Europe is a global manufacturer and distributor of dental materials, including composites, cement, and adhesives. The company was founded in 1921 and is headquartered in Leuven, Belgium. With operations in more than 100 nations, GC Europe has a significant presence in Europe.
The company, which employs over 1,000 people, is renowned for its dedication to innovation and quality as well as its emphasis on research and development. The use of advanced technology and materials to produce items that are incredibly aesthetically pleasing, long-lasting, and simple to use is one of the primary characteristics that distinguish GC Europe from other dental supply distributors.
9. KaVo Kerr
With its headquarters in Biberach, Germany, KaVo Kerr is a dental technology business with roots that go back to 1890. More than 4,000 people are employed by the organization, which today conducts business in more than 40 nations. Development, production, and marketing of dental tools and supplies are among KaVo Kerr's primary business endeavors.
The business has won numerous accolades for its dental innovations and is well-known for its creative products and dedication to quality. Almost 350 authorized dealers are among the robust network of partners and distributors that KaVo Kerr has, just in North America. To support its worldwide operations, the corporation also has several production facilities and R&D centers.
10. Septodont
Septodont is a French dental pharmaceutical company founded in 1932. The company operates in over 150 countries and employs approximately 1,900 people worldwide. Septodont's main activities include the development, manufacturing, and distribution of dental pharmaceuticals. The company is committed to innovation and sustainability and has been recognized for its contributions to the dental industry.
Septodont has a strong global network of distributors and partners, including subsidiaries in the United States, Canada, and Brazil. The company also operates several manufacturing facilities and research and development centers around the world to support its global operations.
Read more about the Dental Equipment & Supplies Industry in Europe.
Conclusion

The dental sector is highly competitive in Europe. American dental supply companies need to have a distributor, which helps them navigate a complicated and diverse market. Without the aid of a local distributor, US businesses entering the market may find it challenging to build relationships with these experts.
In this article, we have provided you with a list of several established distributors in the dental equipment market in Europe with a strong network of dental professionals.
For further information on how we assist North American businesses in entering the market more swiftly and successfully, discover our Sales Outsourcing services in Europe.
Category